Among the key tenets of Finance minister Smt. Nirmala Seetharaman was to increase the surcharge on India's Super rich. Online Poker too was no exception to this and quite a few feathers have been ruffled on how the unaltered taxation policy continues to put them at a big disadvantage.
Bansal, one of India's most respected and talented poker pro has recently shown his dissent in this matter as well. He is part of the 3762 members strong "The Players Group" and has called out for a boycott on Adda52 in that specific forum.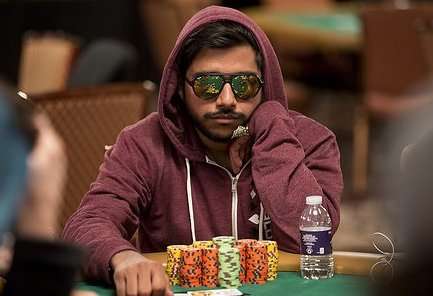 As per excerpts from PokerGuru, Bansal has recently called out for a boycott on Adda52 disappointed by their immovability on the need to have a better tax deducted at source (TDS) policy and failure to address the need of coming out of the existing TDS policy that's clearly not favorable to the online poker industry. He has also presented the following facts pointing out the sad plight of the players and on the current TDS structure and how it's affecting the fortunes of the players:
Big time winners paid about 40% in TDS Ubiquitous mid-level winners paid 50 to 80% in TDS
Low-level winners ended up making a net loss as they had to shelve out more than 100% TDS effectively.
With a gargantuan user base of 1.9 million users, Adda52 morbid stand continues to affect the fortunes of a large section of the online poker community
In complete contrast to the above scenario, PokerDangal allows players to withdraw INR 30000 daily without TDS(in alignment with USD 421). PokerBaazi deducts TDS only on net winnings.
Thanks to the large fan following Bansal enjoys, his stand was followed to the teeth by his fellow players and there was a considerable dip in attendance for adda52's The big slick & Mega Suits as well. Bansal won in terms of getting the attention of Adda52's big wigs and though Adda52 invited members of "The player's group" no one turned out. But the following demands of players are now being discussed at length in Adda52's team:
If Adda52 decides to adhere to the same tax policy, they should take the hit in terms of extra tax paid by players.
The TPG group's stand is that existing adda52's policy is anything but good for the poker economy. If this continues TPG will continue to boycott adda52's tournaments and they won't be let to advertise on TPG group as well.
The reason for the different tax policy of adda52 needs to clearly bring out in terms of Multi-table tournaments (MTT)vs cash games. Adda52 should also high time consider closed wallets for MTT owing to the reason that players are given only chips in their wallets when winning and tax only during cashouts. It shouldn't need big efforts when this is workly perfectly fine for cash games.
While Adda52's fortunes continued to dip owing to this furor with TPG members, PokerStars & PokerBaazi saw a considerable increase in their sit-outs' attendance. It is high time Adda52 get their core team together and take a suitable decision considering their player's interest as well.
The Players Group (TPG) group representatives have also reached to adda52 management regarding the TDS policy. A copy of an e-mail sent by Raman Gujral to Kunal Patni has been pasted below:
Hi Kunal Patni, As you mentioned in Whatsapp chat with us, Adda management's agenda for the meeting next week was to discuss their stand on the TDS policy along with their tax consultant and you want to hear TPG's views on the same and our grievances. After carefully considering this and not having received a response to our proposal, the admins have got together and come to the following conclusion: Explaining Adda's stand to us won't make much of a difference in our stand if Adda management is unwilling to budge. Showing us that they care but their hands are tied, may gain our sympathy, but not our support. In case their stand remains the same — and we should assume that to be the most likely outcome for the near future, we would like to know what they have to say about our proposal. They do not need us to be present at a meeting to give a response to our proposal. So to show good faith, they should give their views on this one simple proposal: We want Adda to reimburse players the tax that he/she might have paid that is over the 30% of his/her net profits over any given quarter. This proposal has been communicated to at least 4 representatives of Adda, but no response has been given. This makes us doubt their intentions. To consider this, they only need to have an internal meeting, not one with TPG admins and we see no reason to have an in-person meeting with them.
And just in case it helps you come to a conclusion about our proposal, we are reiterating our views and grievances in a concise manner again:
Grievances: The way Adda has interpreted the tax law, their MTT system is a drain that will suck the poker ecosystem dry. Eventually close to everyone that continues to play a lot of tourneys will go broke. Many have paid tax of close to 100% of their net profits! And there are many losers who are paying tax. This is not only unfair to the players, but it is also immoral to run a business in which a skill game of poker is being turned into a vice that people ought to stay away from! The entire burden of adopting the safest way so as to avoid tax scrutiny has been laid upon the players by Adda management. Our Views: Adda is going for a safer approach rather than one in which the poker economy can survive…and are passing the bill for that to the players. They ought to have a closer look at the word PAYMENT from article 194B. We feel that as long as the chips stay in a poker wallet and do not go to a bank account, it should not be deemed to have been a payment. That is the model that Baazi, Stars, 9Stacks, and Spartan are following. Kudos to all these sites who are willing to take the risk of having to justify their taxation stance in court for the benefit of the players. If Adda's policy does not change, we are obligated to educate all players against playing on Adda.
Thanks – TPG